Boys & Books... Bridging the Gap...
By: Dallas Child Magazine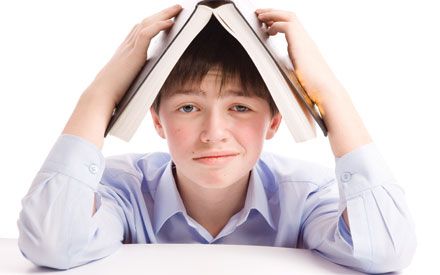 You've tried to interest your boys in curling up with a good book but what can compete with soccer, video games and TV? Not that there's much time for reading, anyway, between time spent fishing in their backpacks for tonight's homework and minutes wasted puzzling over half-remembered instructions for the assignment. Energetic boys can be an especially hard sell when it comes to picking up a book or getting organized. Now, educators and experts are coming up with new ways to help parents tease boys back on track.
Boys get a bum rap these days for being scatterbrained and disorganized at school and at home. It may be true in the past that boys were let off the hook for being less organized, but I don't see that happening with the parents or schools that I deal with, asserts Dr. Brandy Miller, a Dallas clinical psychologist. Boys must do what it takes to meet the requirements at school just like the girls.
So why are boys such a mess? Its literally all in their heads. We know from research that the brains of boys do not develop as quickly as those of girls, and that one of the last parts of the brain to develop completely is the frontal lobe, Miller notes. The frontal lobe is responsible for executive functions such as organization, planning, strategizing, judgment and understanding consequences. It makes sense, then, that the typical preteen or teen boy may be less organized than a girl (a generalization, because of course, there are many fastidious, organized boys and many disorganized girls).
Both boys and girls need help from parents to teach them how to stay organized, Miller advises.
Develop specific routines and create particular places for each item.
Sit with your child one on one at the same time every day to review schedules and responsibilities.
Teach kids to make lists, crossing off as they go.
Keep calendars posted and up-to-date.
Create a daily backpack organization time.
Biff! Bam! Pow!
Now that you've got them organized, get them reading. High-action stories tend to catch boys attention, so capitalize on catchy subject matter. Try tomes like the new stash from Big Guy Books, which tempts boys with action-oriented stories and cinematic-style imagery, including live actors and special effects. We call it stealth literacy, the cure for the reluctant reader, says creator Robert Gould, who specializes in luring reluctant readers, and especially boys, back to books.
If you suspect your energetic young reader will balk at one more enriching activity added to the list of things pulling him away from what he really wants to be doing, you're probably right. Don't make reading another job on the chores
Boys & Books
Reading: Its not just for bedtime anymore. Carve out regular times daily to focus on reading.
Spend more time at the bookstore. Make a Saturday morning out of it.
Offer incentives. Some kids respond better when there is a reward involved.
Give books as gifts. A great book that will last for months and months. And the gift of reading? That lasts forever.
Keep it light. Support him in reading what he wants to read, not just what you think he should be reading. Boys will not digest what is force-fed to them.
Make a competition out of it. Create a chart and keep a running total of how many books your child reads each week; then see if you can do more next time.
Turn off the TV!
Start out by letting kids see you enjoy reading yourself. In this regard, turning your child into a great reader is as easy as catching up on all of your favorite books, advises Gould. A weekly trek to your favorite bookstore can become a Saturday morning ritual for the whole family. And don't forget to lend a hand at the school library. Gould notes: Your child will see your level of commitment to the library and say, Hmm, this place must be cool if Mom and Dad are hanging out here.
Another important tip: Keep books in your car. Turn your minivan into a bookmobile, Gould suggests. Unhook the portable DVD player and fill the back seat up with a selection of your child's favorite books.
Also, consider signing your child up for a magazine subscription. And of course, read to your child everyday. Reading to a child is the single most effective way to build a love of books, says Gould.
Get Relevant
Look reluctant readers by making reading active and relevant to what they enjoy. Gould suggests capturing their attention by using books with strong visuals (and, keep TV to a minimum). Then capitalize by moving from books to the real world. If you read a book about dinosaurs, why not accompany it with a trip down to a natural history museum? he says. Connect reading with the things they love. If your children prefer baseball or dance, then get them books about baseball and dance. Nonfiction books are just as good as fictional stories when it comes to building a lifelong love of reading.
And don't forget to keep it light. Support him in reading what he wants to read, not just what you think he should be reading, Gould cautions. Boys will not digest what is force-fed to them. Get involved and learn to become interested in what interests your kids.
Another way to engage? Read books from a series. Once a child finds a book he loves, hes going to want more and more, Gould observes. By introducing a series into your child's reading repertoire, you're getting him hooked on every book in the series.
Get Active
Competition and incentives work well for many boys. Gould suggests a chart tracking running totals of how many books your child reads each week, or try a treat after daily reading.
And finally, get moving. Sing a song when you read, Gould prods. Act out the stories. Get up and do a dance. And let your child do his own part. Provided that your child is old enough, have them read their favorite book to you, he urges. It will help build their reading skills and show them how interested you are in their most prized books and stories.