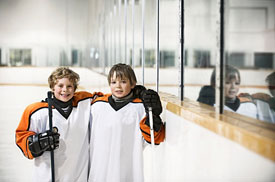 Please understand that these suggestions provide general information related to finding and selecting an attorney. Much like good friends, making sure you have a father friendly attorney will go a long way in helping you navigate your current challenge. This information is not based upon a thorough assessment of your situation or needs and nothing on this page should be construed as legal advice.
Check with a father's rights organization in your community or your state for a recommendation. See our page for FATHER'S RIGHTS ORGANIZATIONS AND RESOURCES IN THE U.S. and our other resources page.
---
Interview several attorneys, including those you can't afford. Find the attorneys who are the top guns in your community to interview. Many will give a free or low cost consultation. This is an opportunity to pick their brains. Remember, these are experts, so don't refuse a free consultation. Let them think that you can come up with the money from a rich relative if you like their game plan. Take notes and write down ideas and suggestions they share with you. Ask them which other attorneys they might recommend to handle your particular case especially with a particular judge. This should give you some strategy ideas and some leads on other lawyers.
Another advantage of interviewing many lawyers is that ethically this should prevent that attorney from representing your (ex)wife or girlfriend. This does not always prevent them from doing so, (especially the unethical attorneys), but this might be a good reason to pay for the initial consultation at either the full fee or a reduced fee. Ask for clarification on this conflict from them up front. Keep the receipt, so you can later show the judge or the attorney disciplinary committee in your state that you paid a fee and therefore in effect "hired" that attorney, in order to prove an ethical violation.
Talk to the Court Clerk that works for your judge. Tell her/him you are looking for a good, affordable attorney who is respected by the judge. Ask her/him to give you two or three recommendations.
Do everything humanly possible to locate dads who have been successful in your court to interview and get attorney referrals from. This might include hanging around at the courthouse, putting an ad in a local newspaper or post a notice on our bulletin board.
Check with attorneys in nearby towns and communities. They can often recommend colleagues in your community who believe in fathers. Caution; do not hire an attorney from another town unless there are no other alternatives. Judges, especially in small towns, don't like cocky lawyers from outside their communities, coming in and beating up on their local lawyers. The "home town advantage" can be very important.
Check with local psychologists. Often courts call upon psychologists to do custody evaluations, and they should be able to steer you to a lawyer they have worked with who is father friendly and effective. Also, you can ask local private investigators and process servers for their recommendations.
Check with local politicians, state representatives, county supervisors or commissioners, city council representatives, etc. They know their communities well, and usually know the local judges and who might be close to them. Finding an attorney who is close to the judge is very important.
Seek out a retired judge in your community. Some are practicing law and might be good to hire. Others are no longer practicing but can recommend someone that is in tight with the judge.
Here in Texas judges are elected. One technique is to look up their campaign records in the local election office (this should be open to the public) and find out which people especially attorneys contributed to the judge's campaign fund or coordinated his election. It's always a good idea to hire an attorney who is in tight with the judge. You can also sit in on some of the judge's hearings. See who the attorneys are, talk with them and find out which lawyers are highly respected by the judge.
Don't be afraid to talk with attorneys in totally different fields, e.g. corporate lawyers, insurance lawyers, or criminal lawyers, for their recommendations. Ask them who the good litigators are. Some lawyers are not good litigators. Often they can make a lot of money just taking retainers, and never want to or expect to prove themselves in court. Why should they litigate if they can make a bundle just taking retainers and standing by while dad is screwed?
Whatever you do, do not simply go to the phone book and hire the first name you see. And don't hire an attorney just because he/she did a will for your uncle or helped a family member in criminal case. Family law is a special area. Representing fathers is usually an uphill battle and takes special skill (e.g. handling false child abuse, sex abuse, domestic violence accusations). In smaller communities, lawyers may do a general practice (civil, criminal, etc.) and you may have no choice. But, in a large city, if you hire a primarily criminal attorney to handle your custody case, expect to be disappointed.
We know of one member who hired a lower priced fairly recent law school graduate to handle his case, but behind the scenes also paid for a high priced, successful litigator on an hourly basis, to give the younger attorney advice on strategy, and possibly to carry some political water for the case. This turned out to be very effective. If you find what you are looking for in the list above, please be sure to contact us here at the Fathers For Equal Rights Child Support Information Center. Office 214 953-2233 for more information.