By Thomas Hoerner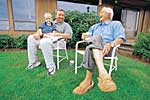 Many fathers struggle to be part of their children's lives and can't afford to be a Disneyland Dad during visitation periods.
Here are some affordable entertainment tips:
Make arts and crafts
Play board games such as checkers, chess, Monopoly, cards, and so on
Play basketball games such as Horse or Around the world
Picnic in the park
Play catch--baseball, football, frisbee
Make a puzzle or model
Go to dollar movie or rent a video
Visit the library
Go swimming at community pool, apartment pool or local lakes
Go fishing
Go hiking
Plant a garden
Play indoor or outdoor putt-putt
Have water fun with a hose and sprinkler or water balloons
Fly a kite
Camp out in the back yard
Make a snowman or go sledding, followed by hot chocolate
Call the local parks and recreation department for a schedule of free events
Visit the zoo, or other cultural facilities such as children's museums
Visit friends and family
Visit fast food restaurants with play places
Visit batting cages
Visit flea markets, thrift shops and dollar stores
Go to free concerts
Go to high school sporting events, theaters and musical productions
Go bicycling or walking, using a reward such as visiting an ice-cream stand for the final destination
The above is from The Ultimate Survival Guide for the Single Father, by Thomas Hoerner. Copyright (c) 2001 Harbinger Press. Reprinted with permission, all rights reserved.